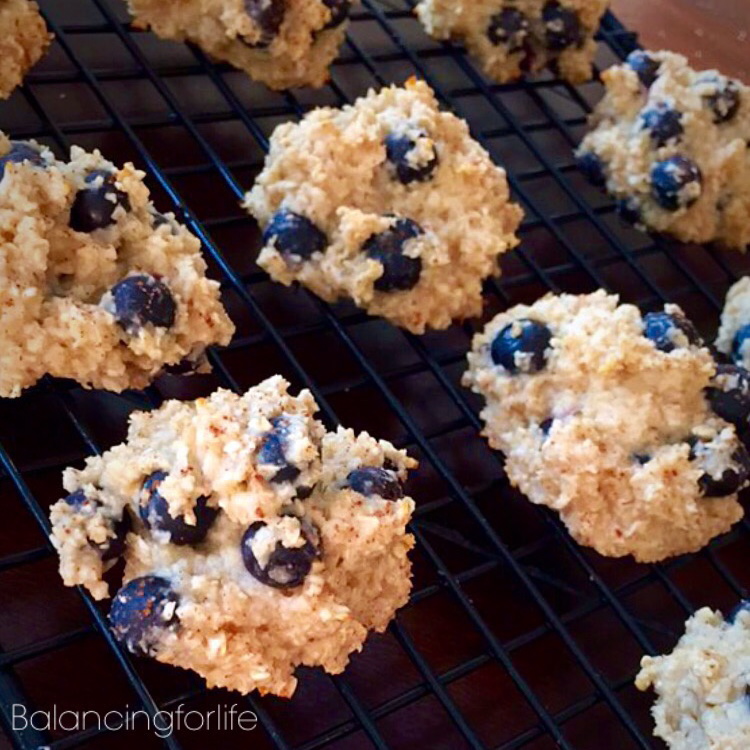 I saw this recipe on Instagram the other night and had to try it.  It's like eating your morning oatmeal but as a cookie! It looked simple, quick and not only do I love blueberries, but had all of the ingredients in stock and I knew these would make a great "Foodie Friday" treat to bring into my local gym. (Yes I bring samples of recipes from my blog to my gym on Fridays- I love my gym peeps!) The original recipe is from mindovermunch. The only change I made was adding the lemon juice, zest and cinnamon.  I love the added flavor they bring to the cookies but they certainly are good without. I may add some ground flaxseed next time. These are best when they are warm, right out of the oven but I did eat one cold as a pre-workout snack this morning! Check out her site as she offers e-books, so many other wonderful recipes and more – it's amazing!
---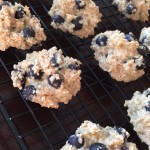 Blueberry Oatmeal Yogurt Cookies
Dry Ingredients
1 C. oat flour (if you don't have it just blend up oats in your food processor)
1/3 C. granulated Stevia (or granulated sweetener of choice)
1 tsp. baking powder
1/2 tsp. salt
Dash or two of cinnamon
Wet ingredients
3/4 C. Greek yogurt (I use Fage)
2 TBSP egg whites
1/2 tsp. vanilla extract
1/2 tsp. fresh lemon juice
lemon zest for tops
3/4 C. fresh blueberries
---
Step 1.
Preheat oven to 375 degrees fahrenheit.
Step 2.
Spray baking sheet with non-stick spray or line with parchment paper and set aside.
Step 3.
Combine dry and wet ingredients separately.
Step 4.
Mix dry ingredients into wet ingredients then fold in blueberries.
Step 5.
Drop teaspoon of batter onto baking sheet, grate some lemon zest on top and bake for 8-10 minutes.
Enjoy! Store left over cookies in the refrigerator .. if there are any!
---