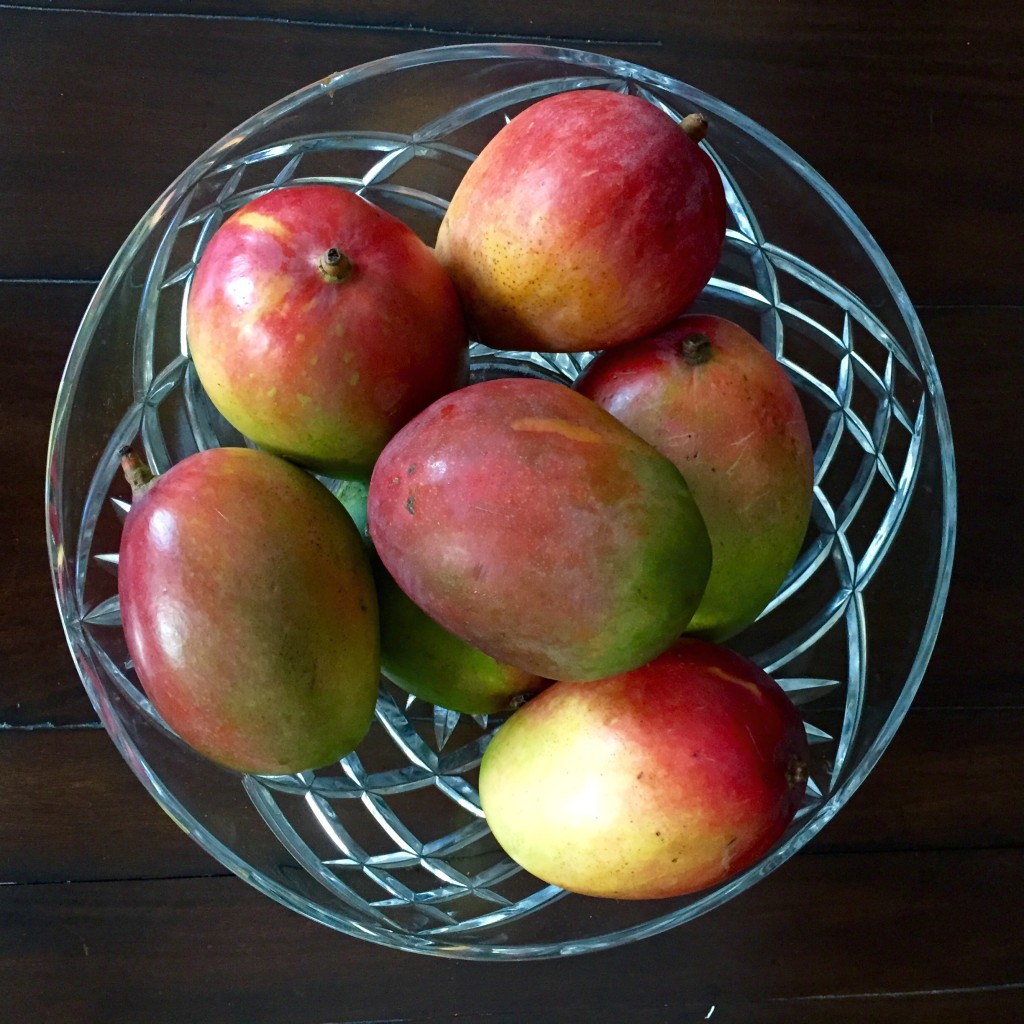 Mangoes, often referred to as "The  king of the fruits," are typically in season from March through July, in other words – right now!  They are one of the most popular, nutritionally rich fruits,  are an excellent source of vitamin A, beta-carotene, alpha-carotene and beta-cryptoxanthin.  Fresh mango is also a good source of potassium, vitamin B6, vitamin C and vitamin E.  When I see them in my local market I grab lots of them, buying them in various stages of ripeness too.  Some I use right away, others I cut and freeze for later use (See fruit freezing tip at the bottom of post).
---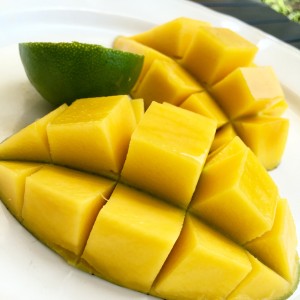 How to cut a mango: Start with a fruit that is ripe but still firm. If it's too ripe it'll be too mushy to slice into pretty cubes, however you can scoop out the flesh and use in a smoothie or other recipe. Mangoes have a large, flat-ish, oblong-shaped pit. So when slicing, stand it on its end, stem side down and slice at about 1/4″ from the widest centerline. Flip and repeat on the other side avoiding the pit. Gently slice through the flesh of each oval "cheek", lengthwise then crosswise making chunks and being careful not to cut through the skin. Carefully flip the cheek "inside out" to reveal the chunks and slice to remove.
---
My very good friend recently came back from a fishing trip and was thoughtful enough to bring me back some souvenirs –  mangoes! He brought me three varieties: Nam Doc Mai, Orange Sherbet and Glenn Mango. The Nam Doc Mai, with it's green to yellow skin, originated in Thailand and was introduced to the U.S in 1973. It is the most sought after of the Asian mangoes for it's firm, sweet and completely fiberless qualities – I saved this one for my salad! The Glen Mango has a mild, sweet flavor, is virtually fiberless and easy to grow. The Orange Sherbet Mango is medium-sized round and bright yellow when mature. As it's name implies, has an excellent sweet flavor and is one of the best varieties for backyard growing. I used this one to make the sorbet.
There are so many great ways to enjoy these tasty, tropical fruits, whether it be by itself or in recipes – here are four of my favorites:
---
Mango Peach Smoothie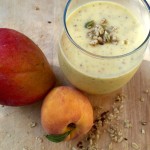 1 ripe mango cut in chunks

1 ripe peach skinned and cut in chunks

1/2 C. Greek yogurt

1/2 C. almond milk

1 TBSP raw honey

1 tsp. chia seeds

1 C. ice (if using frozen fruit, omit the ice)

1 scoop vanilla protein powder (optional)
Blend all until well combined and enjoy immediately.
---
Mango Pineapple Salsa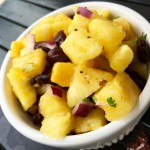 1 ripe mango cut in chunks
1 C. pineapple cut in small chunks
2 TBSP diced red onion
1/4 C. black beans
juice from one lime
chopped fresh cilantro
Gently toss all ingredients together in bowl.  Serve immediately atop your favorite baked fish. Or, refrigerate for 1-2 hours until cold and serve with chips.
---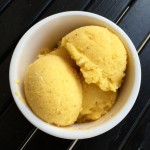 Mango Orange and Coconut Sorbet
2 C. frozen mango chunks
1 C. frozen banana
1/2 fresh orange – peel removed
1/2 C. greek yogurt
1/4 C. coconut flakes
juice from 1/2 – whole lime add to your liking
orange zest and coconut flakes to sprinkle on top – this is optional however, it will add a bit more flavor, plus it looks pretty!
Mix all ingredients in food processor until combined. If you enjoy immediately it will be more of a slushy consistency.  If you want it more firm, place in covered freezer-proof container for a couple of hours.
* If you are using fresh mango, add 1 C. ice 
---
2 large handfuls of organic, washed baby spinach
1/2 fresh mango cut into chunks
3-4 organic strawberries – washed and sliced
1/4 cup cashews
6 oz. grilled chicken breast – optional
Dressing: I usually eat my salads dry, meaning no dressing at all, but today I mixed one teaspoon of raw honey, the juice from 1/2 lime and 1/8 tsp. of chia seeds together and drizzled it on top. It's a great contrasting combination of sweet and tart which nicely complemented the salad.
---
A quick tip:  when freezing your fruit (of any kind) after washing and drying, cut it into chunks and place them on a parchment lined baking sheet with approximately 1/2″  in between each piece. Otherwise you will have one large chunk of frozen fruit making it difficult to work with. Once they are frozen you can use immediately or transfer to a plastic freezer bag or container for later use.

---