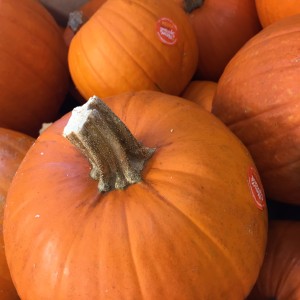 So my love for pumpkin everything continues since I posted my Peanut Butter-Pumpkin Protein Bites! Even though the temperatures aren't quite reflecting the season here in Florida, Autumn is officially here which to me equates incorporating pumpkin in so many of my meals.  Pumpkin, being a cultivar of the squash plant, is loaded with vitamins such as A, C and K, minerals such as Magnesium and Potassium and Omgea 3 & 6 fatty acids as well. With such beneficial nutrients, pumpkin makes for a great addition to your diet.
Here are five pumpkin-inspired breakfast recipes to get your day started off right!
---
Ice cream for breakfast anyone?  Did I just say that? Well, why not! Made with cashews, raw honey, pure pumpkin and no added sugars this Pumpkin Ice Cream is certainly healthy enough! Add some chopped  pecans and drizzle with cocoa raw honey and you have a healthy yet incredibly decadent breakfast treat!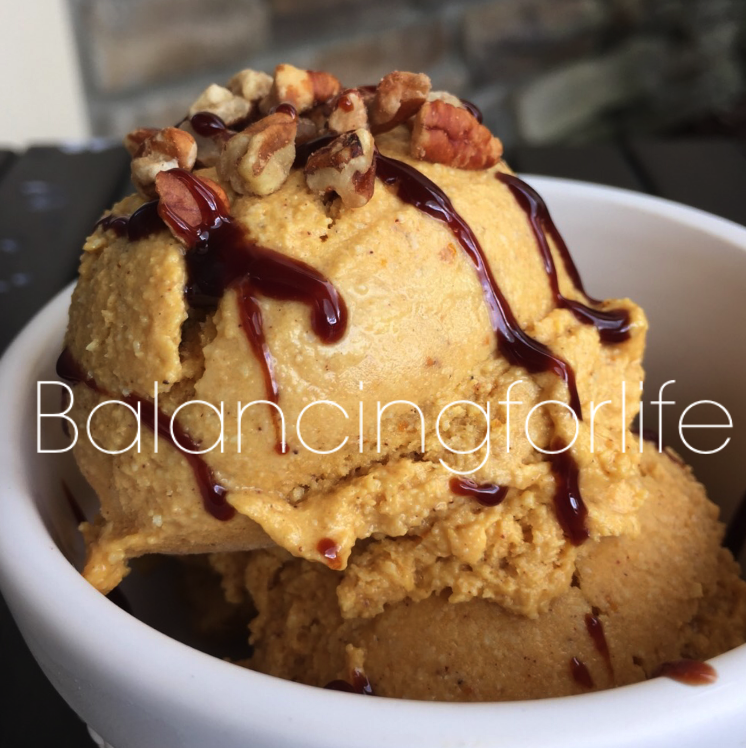 Pumpkin Ice Cream 
1  1/2 C. raw cashews soaked in water overnight or for 4-6 hours
1 C. unsweetened almond milk
3 TBSP olive oil
3/4 C. pure pumpkin puree
3/4 C. raw honey
1  1/2 tsp. vanilla
1/4  tsp. sea salt
1  1/2 tsp. pumpkin pie spice
3/4 tsp. ground cinnamon
Instructions:
Drain cashews well.  Place all ingredients into food processor and combine well for approximately 4-5 minutes, stopping to scrape the bowl a few times. Pour into freezer proof container and freeze for at least 4-5 hours.
(adapted from minimalist baker)
---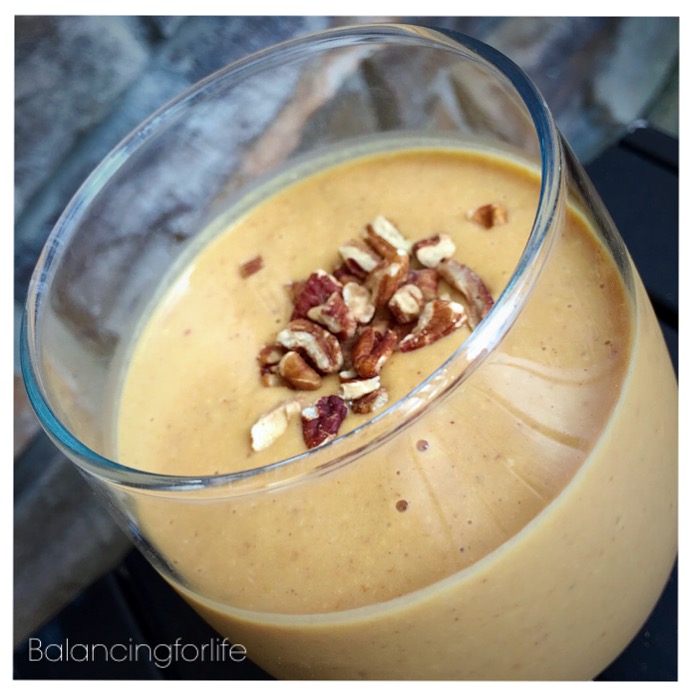 Pumpkin-Coconut Smoothie 
1/2 C. Pumpkin purée
1  1/2 C. unsweetened coconut milk
1/2 C. plain Greek yogurt (I use Fage)
2 TBSP ground flaxseed
2 TBSP raw honey
1/2 tsp. nutmeg
1/2 tsp. cinnamon
1 scoop protein powder of choice (I used Garden of Life)
1 C. ice
2 TBSP coconut flakes (opt.)
2 TBSP.  chopped pecans
Place all ingredients in blender & blend until smooth.
(adapted from Whole Foods)
---
The addition of pumpkin makes for a nice change to your boring morning oatmeal. Cook your oatmeal as per instructions. Mix in protein powder. Add sliced bananas, 1/4 cup of pumpkin purée then top with 1 TBSP ground flaxseed, walnuts or pecans, sprinkle with cinnamon and drizzle with raw honey.
---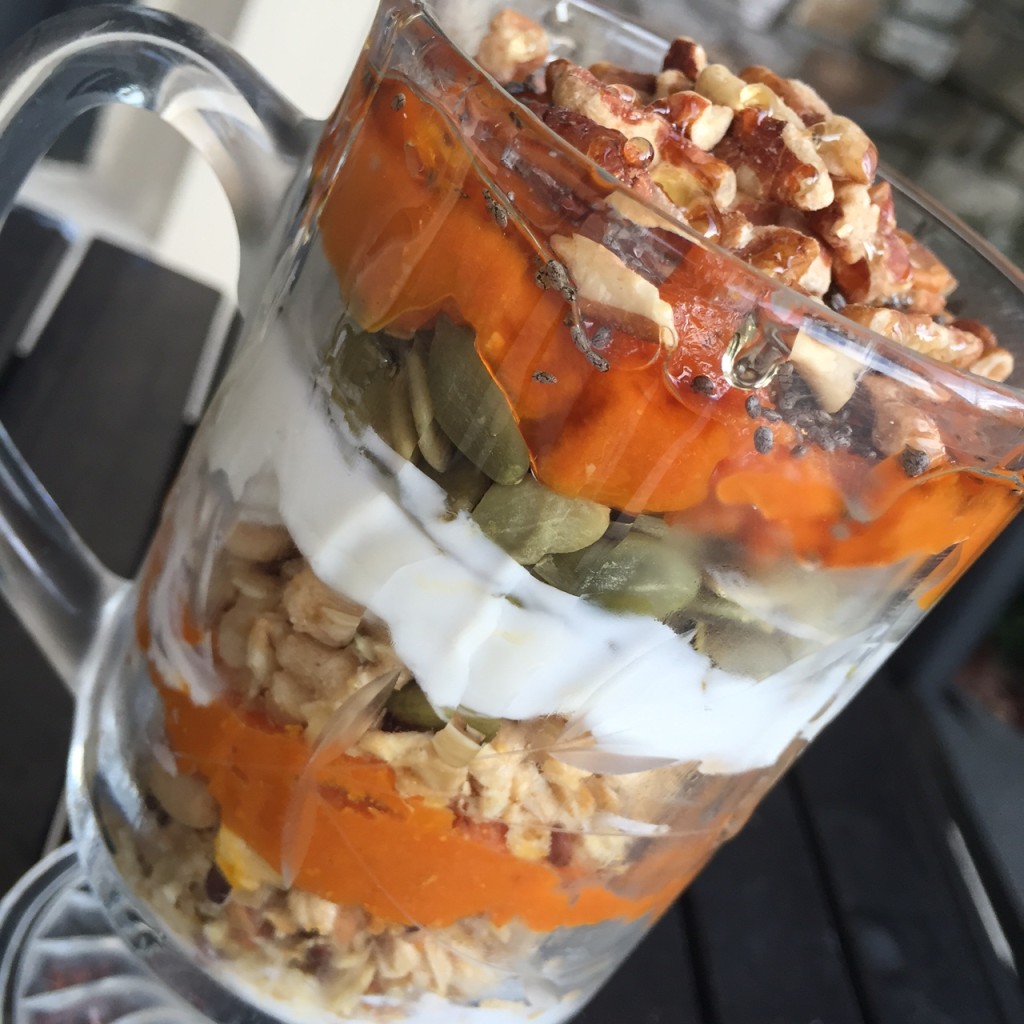 Try this beautiful and nutritious breakfast parfait. Layer Greek yogurt, granola, pure pumpkin purée, pumpkin seeds, chopped pecans, chia seeds, cinnamon and top with raw honey.
---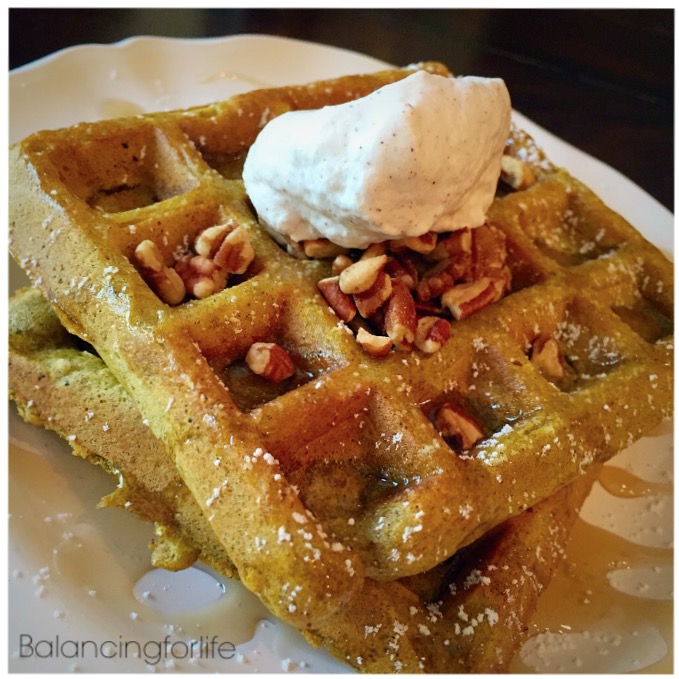 Buckwheat-Pumpkin Waffles

Mix together in large bowl:
1 C. Buckwheat flour
1 C. All-purpose flour
1 tsp. Kosher salt
1 tsp. Cinnamon
4 tsp. Baking powder
2 TBSP. Granulated sugar
1 TBSP. Ground flaxseed
In separate bowl mix together:
1 1/2 C. Warm almond milk
1/2 C. Pumpkin purée
1/3 C. Melted butter
2 eggs
Combine wet ingredients into dry & mix well. Ladle into hot waffle iron, cook until golden & crisp. Top with chopped pecans, agave or maple syrup and cinnamon whipped cream. (optional of course, but why not!)
Cinnamon Whipped Cream
2 C. cold whipping cream
1/4 C. powdered sugar
1 tsp. vanilla
---