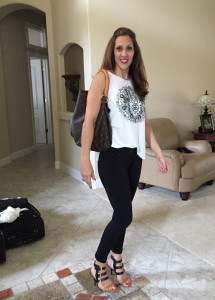 So I've been home for two weeks now from back-to-back trips. I spent one week in Maine with my best friend and another week at Hammock Beach Resort with my family.  I needed to pack for two different types of travel with only two days in-between trips so the more organized I am ahead of time the better. My intent was to have this posted before my first trip – yet here we are. Life is busy and fast-paced and there's only so much time in the day.  I enjoy my travels, spending time with loved ones, relaxing, exploring new things and activities so the work waits.  The kids are back in school now and we are all getting back into the swing of things.
---
Anytime I plan a trip, no matter how far or whether it be by car or plane, my initial thoughts are based around my fitness and nutrition goals. Even though I am not a fitness competitor and just your average person, I still have fitness and health goals. The degree of my planning and prepping is completely dependent on our accommodations. Immediately I'm checking with the hotel if there is there a kitchen, a small refrigerator or a microwave available as well as the type of gym facility available. I immediately start making a list of items I need to purchase ahead of time, items I can purchase at my destination, as well as listing my own items to pack right away. I'm planning and packing my kitchen and protein before my wardrobe and suitcase, and mapping out the closest grocery store before planning activities. You can call me crazy or obsessed but proper eating and nutrition is just that important to me. Plus it saves money by not having to eat every meal out as well as feeling good and avoiding the regret of bad food choices. Sure I have my share of cheat meals and indulge a bit, but the more I can stay on track the better I feel and the closer I am to my goals.
---
Packing for flying – I reserve my carry on bag for my food and fitness essentials.
Here is a list of what I pack:
Food items:
Individual protein packets – I love Vega One protein powders. They are plant-based, come in a variety of flavors as well as individual serving size pouches which are perfect for traveling therefore avoiding the whole "white powder in a baggie" thing.
Shaker cup
Protein and meal bars – as you know, I love making my own bars, so I make some as well as buy prepackaged ones. My favorite ones are Vega One meal bars and Organics raw bars. I also keep one in my purse in case I'm in a pinch between meals. I'm not very pleasant to be around if I'm hungry! This also helps me avoid being hungry and tempted to grab fast food out of desperation.
Nuts, dried fruit, pumpkin seeds and cacao bits –  you can even make up individual bags of trail mix.
Beef Jerkey – Oh how I love this stuff!
Small pouches of tuna and chicken
One meal for before boarding the plane – either a sandwich packed in a ziplock bag or a meal in a disposable container.
I  make sure I have a healthy meal and plenty of bottled water once I pass through security. I have also used a cooler bag as my one carry on (Whole Foods has beautiful ones for less than $10) filled with prepared foods such as chicken, veggies, etc. if the hotel room has a small refrigerator to store them in. My hotel did not have a refrigerator in the room so I kept it simple. If your hotel room does not have a refrigerator and you really want to pack your prepared meals,  buy an inexpensive styrofoam cooler & fill with ice each day to keep your food cool.
Fitness Items: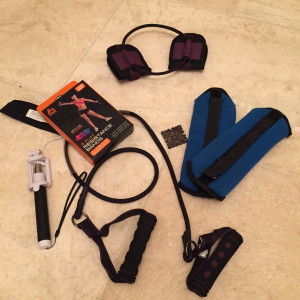 Ankle weights
Lifting straps
Resistance bands
Yoga mat
Earphones and charger
These items are small and lightweight enough to toss in your suitcase and can help give you a great workout regardless if there is a gym where you will be staying.
---
Packing for a car trip:
My husband was kind enough to upgrade our accommodations this year to a three bedroom suite that included a full kitchen, so I was able to keep most of our meals clean and as close to our normal routine as possible..Woo-hoo! There is a grocery store only a couple miles from the hotel so this makes my packing & planning easier. While we are more inclined to eat our dinners and some lunches out, I'll be prepared to eat breakfast in and have healthy quick meals & snacks available. Time to stock up on the tupperware!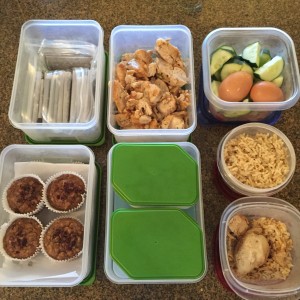 Items I pack and/or prepare ahead:
Items I buy/ prepare there:
Dairy products such as Greek yogurt, milk (grass-fed if possible for the kids, almond milk for me) eggs and cheese
Fruits such as lemons, avocados, berries, melons, bananas, apples
Meats including deli meats such as turkey and chicken
Fish
Wraps/ Ezekiel bread
Bottled water
Salads and greens such as spinach, celery, cucumbers, carrots, zucchini, peppers, cherry tomatoes
Frozen vegatables
Oats
Granola
Hummus
Misc. snack foods: Way Better chips, popcorn, rice cakes
Additional Items to pack:
Shaker
Kettlebell
Yoga mat
Resistance bands
Cable rope
Lifting straps
Earphones and charger
---