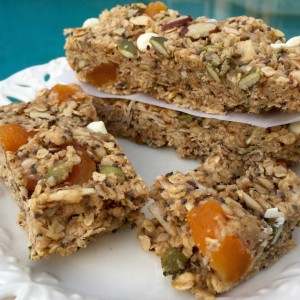 I've been making homemade granola and energy bars for quite some time now but I still love coming up with new combinations. Years ago when I started reading food labels I was amazed at what I saw being put into many of packaged bars – or most pre-packaged foods for that matter.  Looking at the ingredients list,  I couldn't even pronounce many of the items so I started making my own. I love the seemingly endless varieties I can create and that everything going into my bars is real, whole food.  The more I learn about health and nutrition the more homemade food items I make and the less pre-packaged foods I buy. Now there are some good, raw packaged bars to be had at your local health food market, however, I prefer to make my own when I can. These bars are packed full of nutrition including protein, omega-3's, soluble fiber, potassium and antioxidants, making them a perfect breakfast bar, pre-workout meal or mid-afternoon pick-me-up snack.
---
Apricot-Almond-Coconut Energy Bars 
1/2 C. grass-fed butter
1/2 C. raw honey
1/2 C. homemade almond butter
1/2 C. organic medjool dates (pureed in food processor)
2 TBSP. coconut oil- room temp.
4 C. oats
1 C. granola or crispy rice cereal – optional
1 C. dried apricots halved
1/2 C. pumpkin seeds
3 TBSP chia seeds
2/3 C. coconut flakes
1 C. sliced almonds
white chocolate chips – optional
Note: I buy all organic ingredients when possible 
---
STEPS: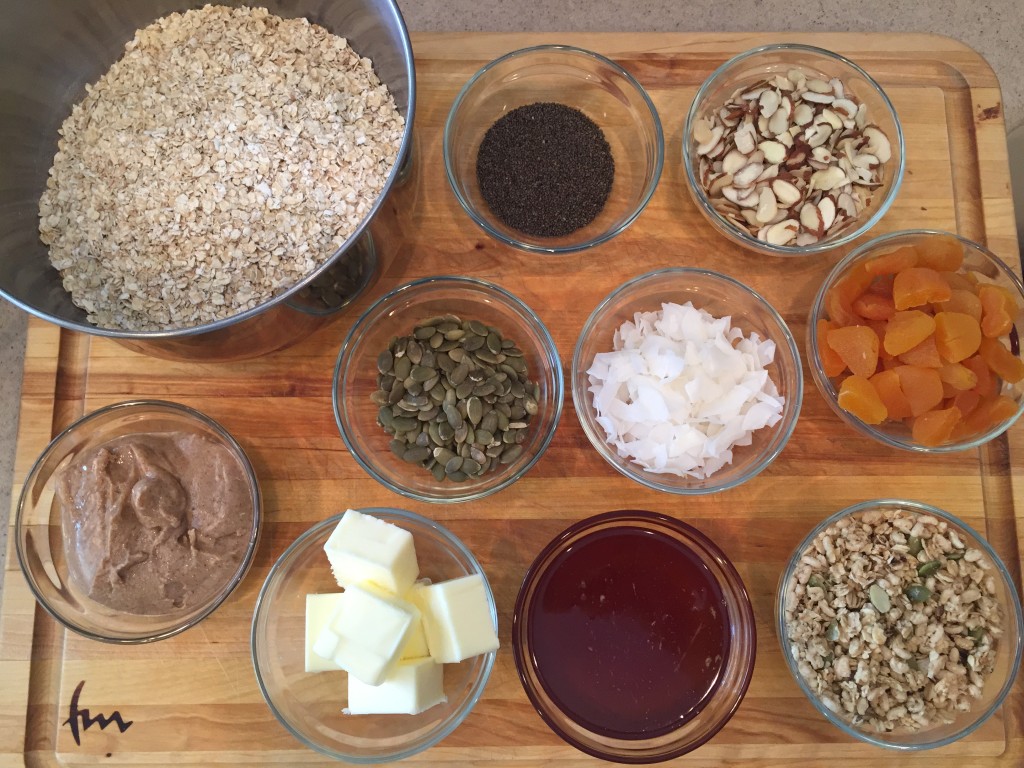 1.  Gather your ingredients
2.  Line a 9 x 13 baking dish with a large enough piece of parchment paper so the paper covers the sides and hangs over the edge of the dish. This will make cutting the bars easier. Set aside.
3.  In medium or large mixing bowl, combine the oats, granola or rice cereal, pumpkin seeds, chia seeds, coconut flakes and almonds. Set aside.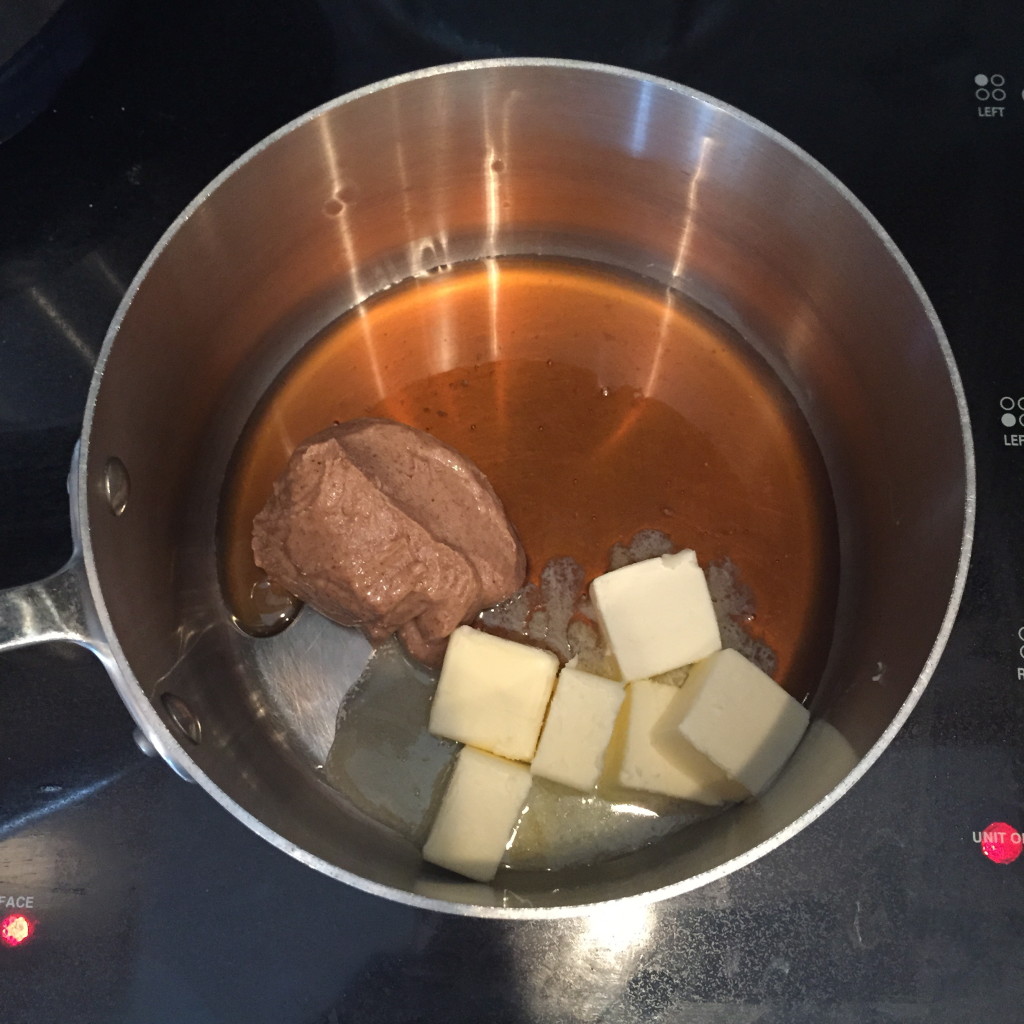 4. In medium saucepan combine butter, honey, almond butter and coconut oil on medium heat.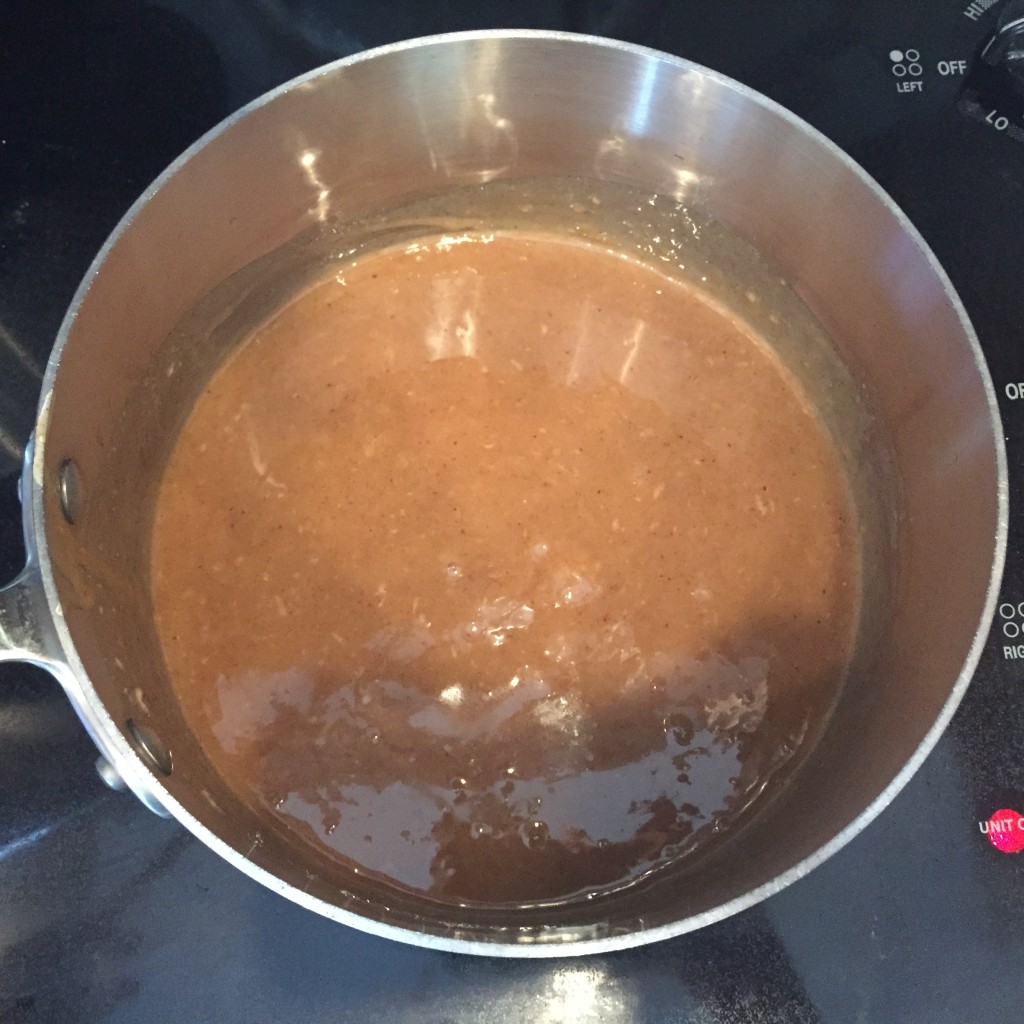 5.  O Turn burner off and slowly mix in the dry ingredients and then the apricots.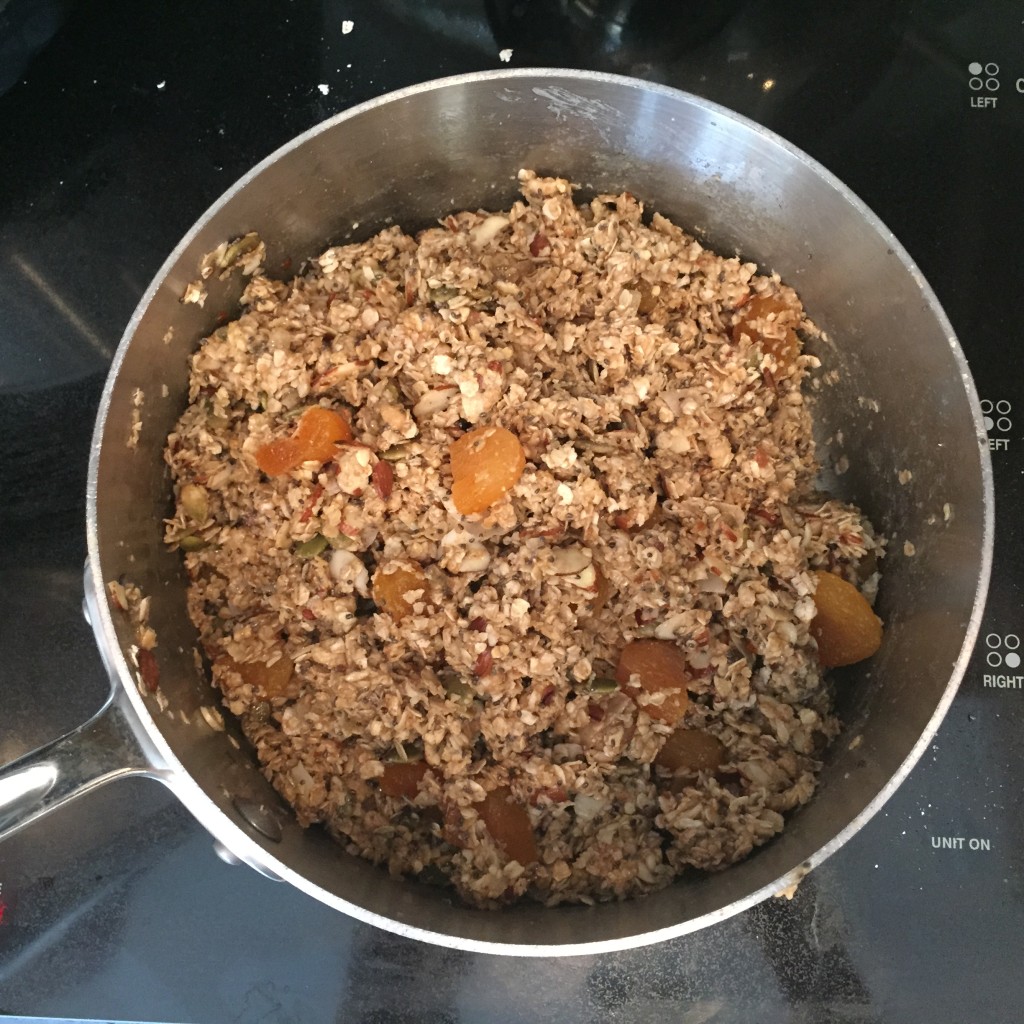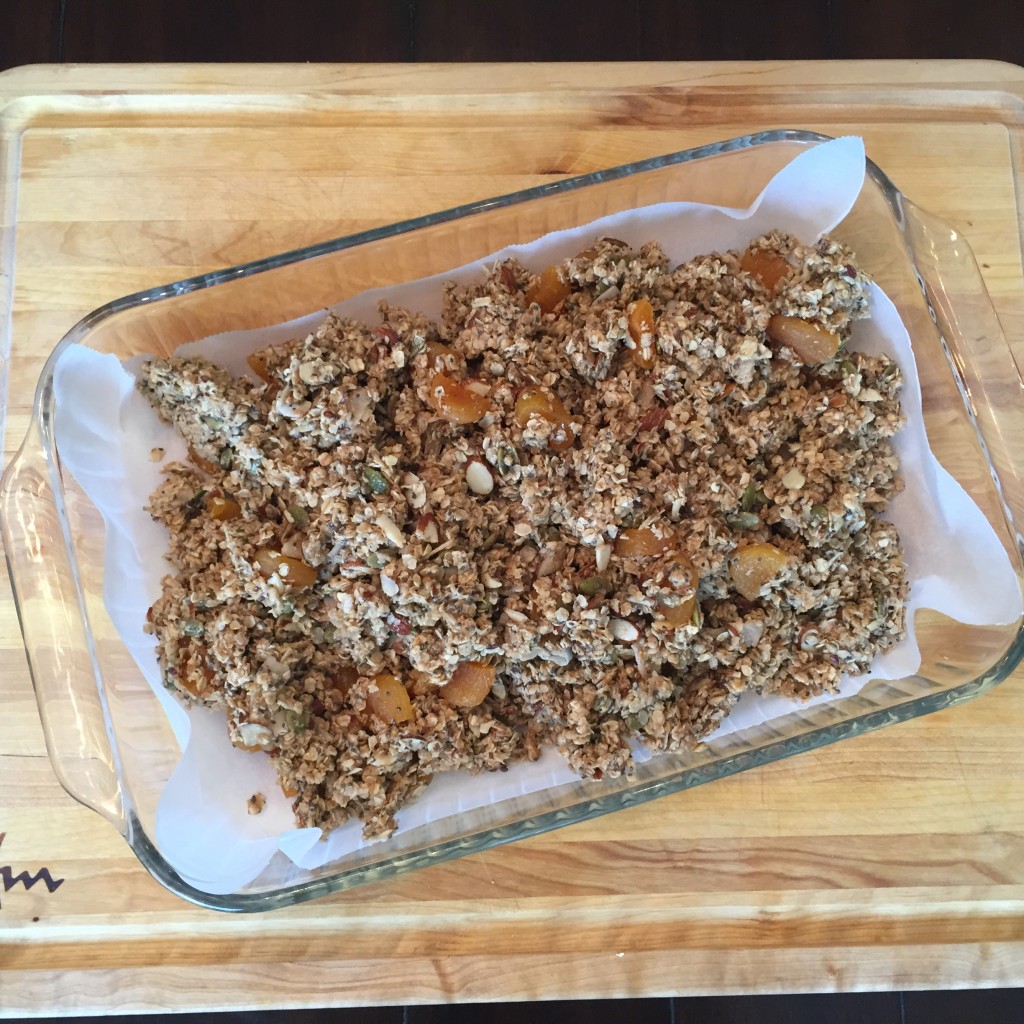 6.  Once mixed together, carefully "pour" it into the lined baking dish. With a large flat spatula, press the mixture down evenly and firmly throughout the dish.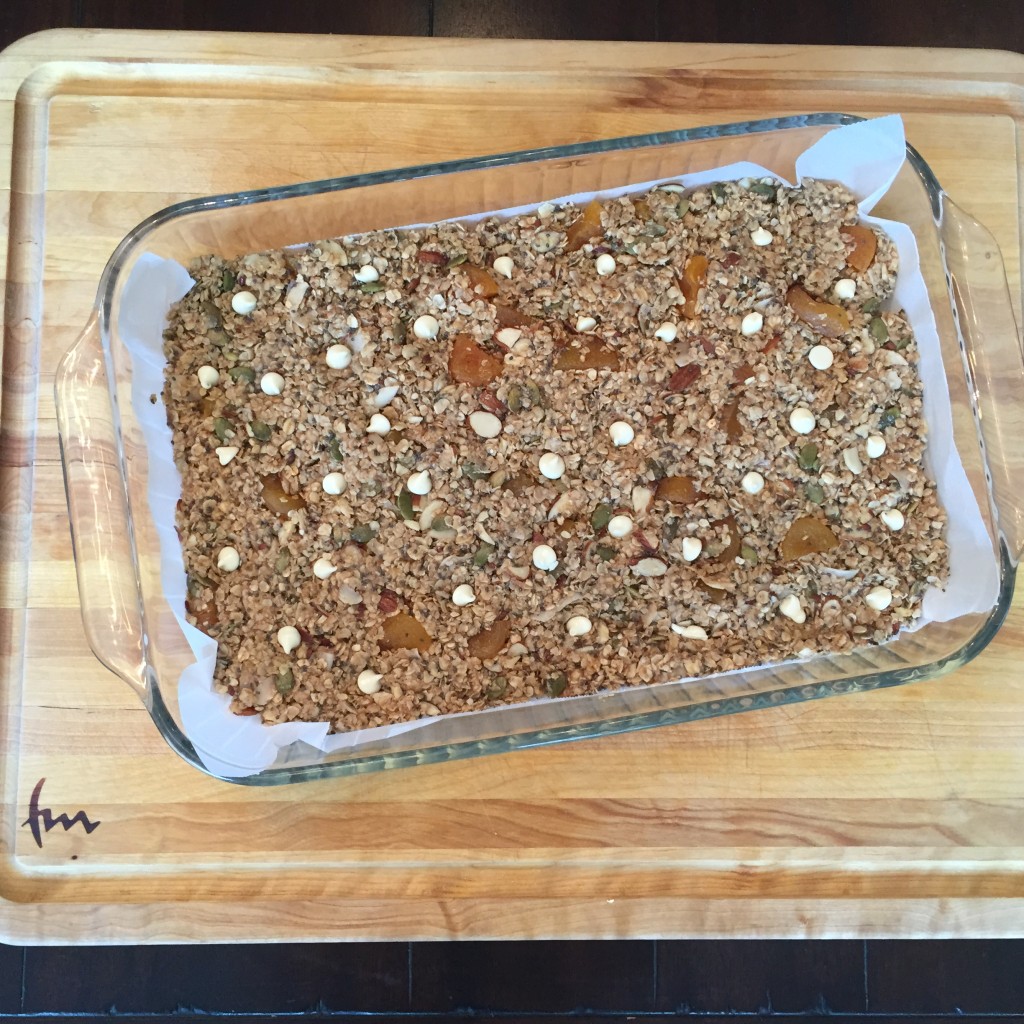 7.  If desired, press one chocolate chip at a time into the mixture. I know it sounds tedious but if you toss the chips on all at once they will start to melt since the mixture is still warm. Then you will not be able to press them into the mixture and end up with a mess. I don't measure the chocolate chips – just put on desired amount. (I actually prefer them without the chips.)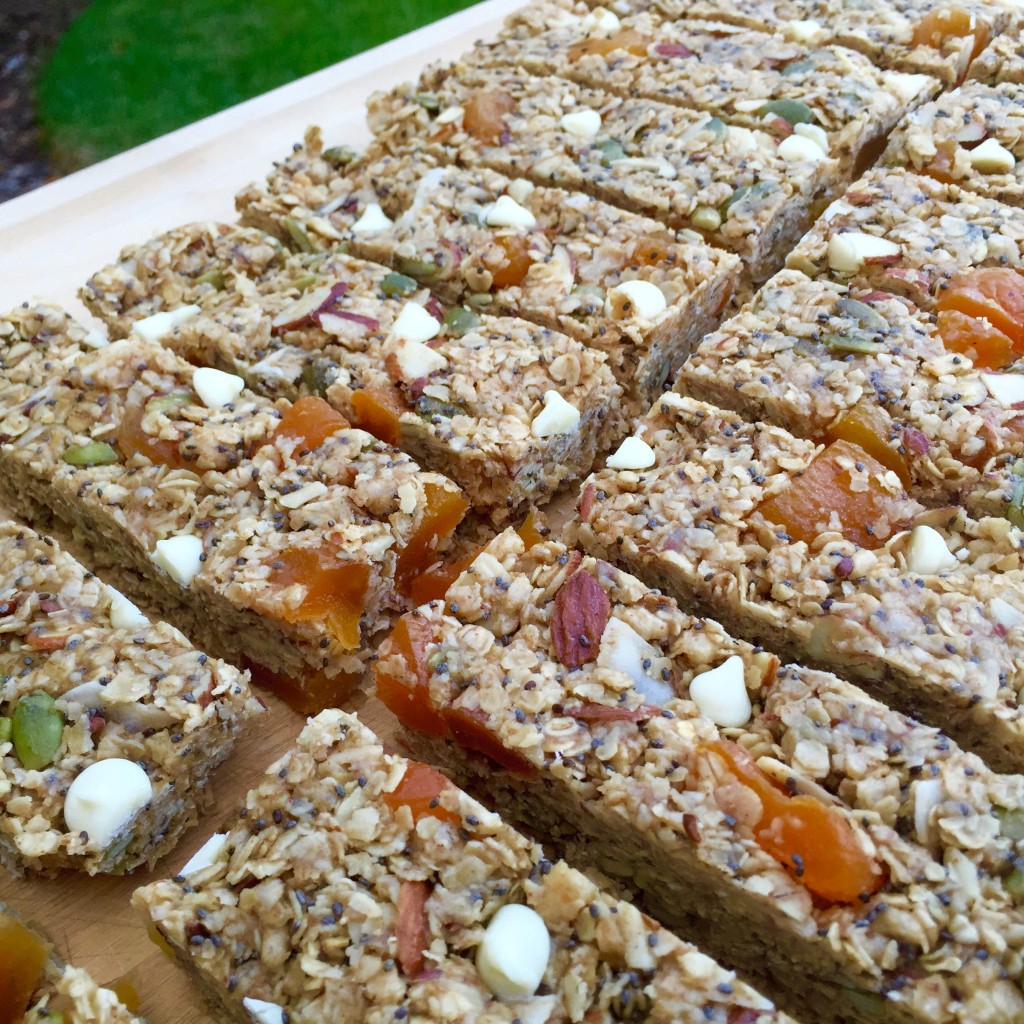 8.  Refrigerate for at least 2 hours. Once they are cooled, lift the mixture out of the dish by the parchment paper and cut into bars. Place each one in a snack size ziplock bag for an easy to grab snack.
I recommend storing them in the refrigerator to keep them fresh and firm. I am not a fan of hard crunchy bars so these bars are still soft even when refrigerated.
I hope you enjoy these bars as much as I do. If you have extra apricots, pumpkin seeds and white chocolate chips consider making my No Bake Apricot-Date Bars. They have much of the same ingredients but are a raw bar without the oats.  Also my No-Bake Cranberry Cashew Energy Bars are a huge hit!
---
Please share my message on your Social channels: