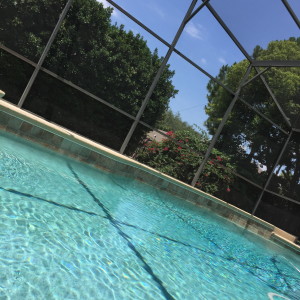 Here we are, almost at the end of May which means we are almost at the end of the school year as well.  My kids are counting down the days until summer break and I can't say that I blame them. I too will feel relieved from the schedules and homework, and can relax, have a bit of freedom, along with some down time and do lots of fun things together.
Although this may seem like an odd time to write a post about the link between nutrition and learning, it's really a year-round lifestyle for us. Just because it's summertime that doesn't mean we completely shut down our brains from learning – especially if you have a child who has some learning challenges like mine does. He attends a wonderful learning center twice a week called Grade Power, which he will continue attending throughout the summer.  That combined with eating real, clean, healthy food, he's made huge strides in his confidence, behavior and academics.  So while we have plenty of days filled with fun in the pool, at the beach, local attractions, playdates, etc., we also spend time at our local libraries and learning centers (with our cooler packed with goodness) to keep our brains performing their best.
Our brains are like other muscles in our bodies.. we must use them to make them strong. So if we continue to exercise, stimulate and feed them well we will have greater success at muscle (and memory) retention. Your brain consumes a lot of energy from thinking – as much as a fifth of all the energy you get from food- and since your brain cannot store much energy and has a limit as to how much blood can be supplied, it gets tired from a lot of thinking. Time for more fuel.
There are a lot of foods that interact with your brain but research has shown that these four different types of nutrients and chemicals interact with your brain in a positive way.
Glucose – Is basically a simple sugar. This is your brains primary source of energy. We get glucose from just about everything we eat but the type of glucose you fuel it with with make a huge difference in maintaining energy levels, thus avoiding quick highs and crashing lows. The more sugar eaten, the more insulin the body releases resulting in fidgeting, trouble concentrating or drowsiness. It's choosing between things such as candy or a piece of fruit. Sugar-filled drinks such as sodas, sports drinks and juices will provide a very quick yet short-term energy spike as well as a major crash, and doesn't provide the body or brain with much nutritional value, if any at all. Americans are consuming huge doses of sugar, including high fructose corn syrup, which is found in just about every processed food and sweetened drink on the market.  This manufactured sweetener should be avoided altogether.  Read your labels and make a natural choice.
By choosing the fruit such as a banana or an apple you will have a more consistent energy level as those foods slowly release carbohydrates, which are then converted to glucose. Other foods to incorporate are whole grain breads and pastas, oats, barley, granola, brown rice, quinoa, beans and lentils, as these supply a steady stream of energy keeping you and your brain happier and healthier.
(To learn more about the affects of excess sugar on your brain, check out this article)
http://www.forbes.com/sites/daviddisalvo/2012/04/01/what-eating-too-much-sugar-does-to-your-brain/
Antioxidants – Berries & fruits such as blackberries, blueberries, cranberries and pomegranate arils contain some of the highest antioxidant levels of fruits. The brain is probably the most sensitive to free radicals than any other body part and these antioxidants help regulate the oxidative stress that destroys brain cells. The stress caused by the conversion of glucose to energy creates free radicals when there is extra oxygen created. These antioxidants block them so your brain doesn't have to work so hard. Other good foods containing antioxidants are spinach, broccoli and carrots.
Good fats – Omega 3-essential fatty acids (ALA, EPA & DHA) are essential for brain function. These fats help maintain flexible, dynamic membranes that are able to send and receive information. These can be found in foods such as Wild Salmon as it contains  EPA & DHA. My kids are not fond of fish whatsoever but I found this fish oil supplement at my local Whole Foods Market and they love it.  It has a smoothie-like texture, is available in different flavors and it ensures that they are getting the daily requirement of EPA & DHA.   Nuts (which are also a source of protein) such as walnuts, Brazil nuts, hazelnuts, almonds, cashews and peanuts have an abundant amount of omega 3's.
All nuts are not equal though. Be careful of roasted & flavored peanuts as overheating in processing causes damage to the beneficial oils.  The added flavoring often consists of chemicals and dyes that can cause  behavioral reactions in some children and are helpful to no one. Also be sure you are buying all natural nut butters – those without added ingredients such as sugar and especially hydrogenated oils. I prefer to make all of my own nut butters. Its simple, fast, pure and has the most delicious, fresh taste. Seeds such as sunflower seeds, sesame seeds, and what are often called "power seeds" such as flax, hemp and chia all contain ALA – Alpha-linolenic acid.
Although avocados and dark leafy greens don't have high amounts of omega 3's, romaine, arugula and spinach do contain some.
Protein – When the body breaks down protein it creates amino acids to help itself and the brain function. Fish, lean meats such as chicken and turkey, grass-fed beef and cheeses, eggs and yogurt are all great sources of pure proteins. A similar comparison can be made with the protein choices as the glucose. Choose baked chicken over fried. Choose a plain, organic (I prefer Fage Greek) yogurt which not only contains protein but beneficial bacteria and live cultures for healthy digestion as opposed to one laden with artificial colors and sugar. The above mentioned whole grains and plant-based foods such as quinoa, buckwheat, Ezekiel Bread protein (which is a flourless bread made with sprouted grains, containing all amino acids), hempseed protein and chia protein are also good choices as a complete protein source.
So there are the four main nutrients needed for a healthy brain,  but let us not forget our Water ! We must stay hydrated as it is necessary for optimal brain function and health. Water keeps the brain from overheating which can cause cognitive decline. Even mild dehydration can impact academic performance, cause fatigue, dizziness and poor concentration.
So as we approach the end of another school year, let's remember to keep exercising that brain and fuel it well – not for a season but for a lifetime.
---
Interested in learning more?  Look for this e-book called "The Brain in Your Kitchen". It's a collection of essays on how everything we buy, eat and experience affects our brains. http://www.amazon.com/gp/aw/d/B00AEAVJSI?ie=UTF8&redirectFromSS=1&pc_redir=T1&noEncodingTag=1&fp=1
---
I've added a handful of quick yet satisfying meal ideas for breakfast, lunch, dinner or snack, that incorporate all of the necessary nutrients that both your brain and your body will thank you for. Be sure to check out more health boosting recipes on my blog page.
---
Quinoa Bowl 
1/2 cup Greek Yogurt
1/2 cup Blackberries
1/4 cup granola
1/4 cup cooked quinoa
1/4 cup almonds
handful of fresh spinach
drizzle of raw honey
---
Ezekiel Bread with Fruit and Honey
Slice of Ezekiel Bread – toasted
Spread natural peanut butter
1 small banana sliced in half lengthwise
1/4 cup fresh blueberries
1/8 tsp. chia seeds
drizzle of raw honey
---
Strawberry Blueberry Smoothie
1/2 cup Greek yogurt
1/2 – 1 cup almond milk
1/2 cup frozen strawberries
1/2 cup frozen blueberries
1 small banana
1/4 cup oats
1 tsp. ground flaxseed
sm. handful of fresh kale or spinach
---
Fruit and Granola Parfait
Layer your kids favorite glass with Greek yogurt, granola, fresh berries (blueberries and raspberries are shown here), top with sliced almonds, a sprinkle of chia seeds and drizzle with raw honey.
---
Whole Grain Penne Pasta
1 box whole grain, protein enriched pasta
2-3 baked chicken breasts cut into chunks
1  jar (6oz.) artichoke hearts
1 bunch of broccoli – steamed
2 oz. sundried tomatoes
2-3 TBSP extra-virgin olive oil for drizzling
fresh parsley & parmesan cheese
1 TBSP ground flaxseed
Cook pasta according to directions. Combine with chicken, artichoke hearts, broccoli & tomatoes. Drizzle olive oil & gently toss. Sprinkle with flaxseed, parsley & cheese.
---
Please share my message on your Social channels: