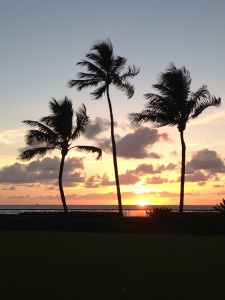 Summer has officially been in full swing for over a month now, and I don't know about your kids, but before school was out mine were chomping at the bit, anxiously awaiting our family's summer plans. So what are your plans for the rest of the summer? Are you planning a big trip? Spending some time at the beach? Are the kids attending a camp of some kind? Or maybe You've decided to stay around and just relax at home in your pool. Everybody is busy with all sorts of activities, not only to keep the kids occupied, but to enjoy doing things together as a family. Whatever your choice of summertime fun is, it's bound to include some form of activities to keep everyone moving, healthy and fit. (no couch potatoes allowed!)
In addition to several activities planned for our kids which include a weeks stay at the beach, my best friend and I have a trip planned to visit Maine for several days. We haven't planned many activities yet however, I am working on my workout plan!  My oldest daughter attends photography classes, my younger daughter will continue with private violin lessons, my son continues his tutoring sessions twice a week, as well as taking golf lessons, and each of them will be attending a week of church camp. Mixed in all of that there is plenty of time spent swimming in the pool at home, sleepovers with friends, going on bike rides and goofing off  at the playground. Since it's so hot here in Florida I like to have some indoor actives for them as well. There's rollerskating, bowling and indoor trampoline jumping. Whew! I think we've got it covered pretty good.  (I'm sure there will still be some complaining going on though!)
---
Last summer, combined with my families beach vacation,  I was so fortunate to be able to take a trip to California with my best friend.  It was an amazing time! We saw so much and explored all over – from the southern-most tip of California up to L.A.- stopping and enjoying so many places along the way.  Even though I only worked out in the hotel gym once or twice, we did a whole lot of walking everywhere we went.  But I'd have to say my two favorite places visited were Venice Beach and Santa Monica Beach. It was so much fun & was an amazing experience to stay active & fit by doing some exercises and "playing" on the rings! (Yep, I made it all the way across!)
So no matter where you go or what you do this summer, have fun, be creative and take advantage of opportunities to experience new things in your health & fitness journey!
Here are some families that were kind enough to share their experiences of how they are staying healthy and fit  this summer by doing fun activities together, all while making incredible memories.
---
This is Tom and his son Mitchell up on Grandfather Mountain in North Carolina. Tom is an actor, stuntman and one of the hardest working guys in the gym! (just look at those arms!) He's constantly active in his daily life whether it be through his job, gym workouts, fishing with or coaching and playing baseball with his son.  He and his family frequent their second home in North Carolina in the summers and spend a lot of time in the great outdoors. I hear trying to run up their steep driveway is a workout in itself!  Tom runs a mile up a steep graded road, which he incorporated 30 second sprints! Then he jogs back down, trying not to completely eat the pavement, only then to sprint again! Wow, I suppose those sprint 8's have really paid off!
He and his family hiked four miles up to Rough Ridge on Grandfather Mountain and, well… did push-ups of course!  After that workout they enjoyed a healthy lunch of turkey and cheese roll-ups, fresh watermelon and some ginseng and honey green tea..all while taking in the breathtaking view! I'm sure we can thank Karen for the photo and the lunch!  They love the quality time they get to spend together staying active, and Tom says "the workouts are a recreational bonus."
---
This is Mitch and his incredibly active family.  Mitch is also one of our fellow gym rats (also known as the pull-up king!) as well as my friend and neighbor. Mitch and Ann are extremely involved in both of their kids' competitive swim and dive teams.  They are staying fit together this summer by spending some time doing various outdoor activities in New Hampshire and Maine. They completed a one-and-a-half mile hike up  Artist Bluff Trail, a hilly and strenuous loop trail.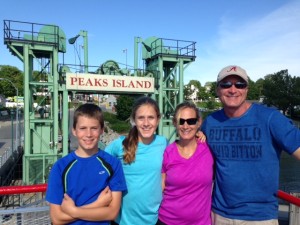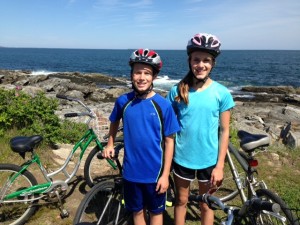 They also spent some time biking on Peaks Island which is just off the coast of Maine near Portland. They rode along the Atlantic coastline on a four-mile long hilly road enjoying the breathtaking views, all while getting their exercise in. They also went zip-lining, mountain repelling and white water rafting. What and incredible inspiration of family fitness!
---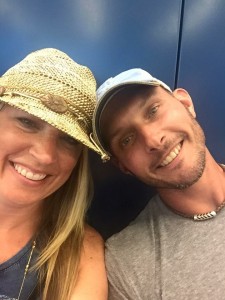 Angie and her husband, Pete visit Sunset Beach, North Carolina every year for their anniversary.  While visiting for the week they love to get in a variety of  exercises.  Besides the long, romantic walks on the beach, they also play frisbee, bacci ball and they even spent one morning enjoying some paddle boarding. They also love to spend a lot of time boogie boarding, which is not only Angie's favorite fun beach activity, but it gives her a great core workout as well.  The other three mornings she likes to take advantage of the quiet time and enjoy an hour yoga session on the beach.
While Angie and Pete did enjoy a few extra meals and treats, they were very mindful of continuing their lifestyle of healthy eating habits.  They made sure to have a healthy breakfast each morning and planned healthy meals and snacks for the day at the beach which included fruits, nuts, turkey wraps and sandwiches. When going out in the evenings for dinners, they avoided ordering fried foods and would typically order fresh fish entree's.
---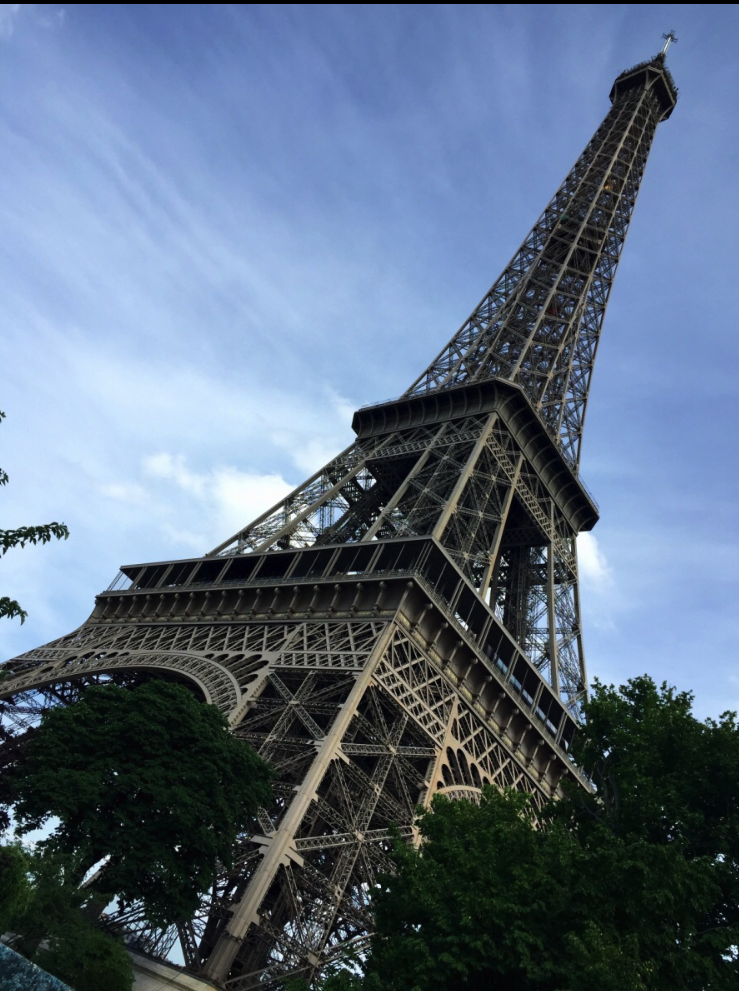 Two of my sisters, Carmella and Lisa along with their families visited France in early June.  While exploring Paris they did an exorbitant amount of walking each day, exploring not only the beautiful city but its museums, cafes and parks as well. They really wished they would have tracked their walking! They, of course, visited the Eiffel Tower where they climbed 693 stairs before taking an elevator to the top to enjoy the gorgeous view of the city.
While visiting The Garden of Luxembourg, the second largest public park in Paris, my nieces decided to get some extra fitness activity in by practicing some yoga including some planks.  One must keep their mid-section toned up after all the macaroon consumption!  I couldn't resist posting this picture of my sweet niece who sent me this snapchat – woo hoo, way to represent! The family continued their exercising with quite a bit of kayaking in Lac des Settons. 
They then visited a very small, simple town about 2 hours outside of Paris called Quarre les Tombs where they experienced very simple living… no wifi service, no drive throughs or fast food restaurants, no pre-packaged processed foods and no Starbucks.  What they did get to enjoy was real, fresh food bought from the small local markets – all in walking distance, including an old butcher shop, and bakery.  True farm to table dining!