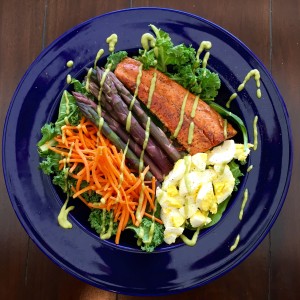 Now that the hot weather is here.. and here to stay I'm afraid, I've been craving a lighter fare and eating more salads. While quite often being short on time it's easy to get stuck in the salad rut of quickly going through the grocery store and grabbing the same old faithful salad fixings each week, not to mention boring.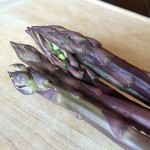 Sometimes I need a little inspiration, whether it be in cooking magazines, Pinterest, etc. but todays inspiration came while shopping at my favorite market when I came across purple asparagus. Since this is peak season for it (spring through early summer) I figured I'd take advantage of it's availability and grab it. I knew I had to have it for todays salad.
It was originally developed in Italy by farmers in the Albenga region but now thrives in temperate regions of North America and Western Europe. Its beautiful purple hue is only skin deep, as its flesh is green to creamy white. It is less fibrous than other asparagus types therefore making it more tender. It's color comes from the high levels of anthocyanins in the spears. Anthocyanins are potent antioxidant flavonoids that have protective and preventative health benefits, including anti-inflammatory and anti-cancer properties.
Purple asparagus can be steamed, grilled or sautéed briefly over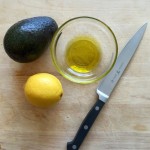 high heat but doing so will dull its color. I prefer to eat it raw as it's tender enough to do so. Plus it looks pretty and is the reason why I bought it. It pairs well with olive oil, lemon and sea salt which I decided to use those ingredients in the dressing.
---
Ingredients
mix of fresh spinach and kale
shredded organic carrots
purple asparagus
grilled wild-caught salmon
2 chopped hard-boiled eggs

Dressing
1/2 avocado
extra-virgin olive oil
fresh squeezed lemon juice
water
sprinkle of sea salt (optional)
I didn't measure the amounts of oil, lemon juice or water. I put in amounts until I had my desired taste and consistency.
---
This is a wonderfully filling yet light salad, full of a variety of vitamins and minerals including biotin, vitamin k, B6, C , folate, omega 3 fatty acids and protein.
Please share my message on your Social media channels: